Professional Touring Theater and Teaching Artists developing works to promote integrity, self-discovery, and positive transformation of artists, audiences, individuals and communities.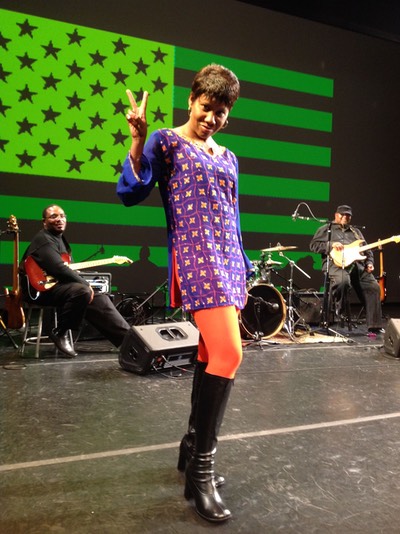 Follow several real and fictional characters through the cultural upheaval of 1969 when the United States found itself in the midst of immense change.  From "The Ed Sullivan Show" to Woodstock, with a James Brown groove and a piece of Janis Joplin's heart. Visit Richard Nixon's oval office and Charles Manson's jail cell.  Deploy from the home front to Vietnam and back with a new understanding. '69 Seasons follows the challenges of the individuals riding in the storm and the discoveries that await as their lives unfold.  A four piece band accentuates the intense visuals of protest and peace, putting "The Star Spangled Banner" in a whole new perspective.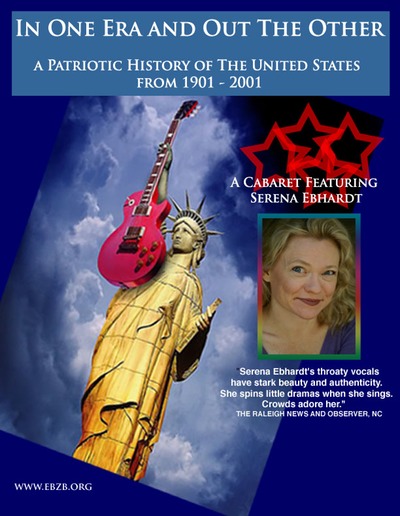 A history of 20th century America told through a patriotic prism.  "ERA" is a fast-paced musical cabaret filled with multi-media images  from 1901 - 2001.   Culminating with the September 11, 2001 attack on America, Serena refocuses the future with humor and hope. "ERA" is a nostalgic romp filled with double entendre, karaoke, prizes, pop-culture & curriculum connections.  Referencing celebrities, headlines, politics, protests, scandals, sex, sports, natural disasters, and popular culture, Serena Ebhardt makes history personal.  She reveals how Americans come together in life, liberty, and the pursuit of happiness when they stand united. It is all just a little bit of history repeating with an uplifting look towards the future.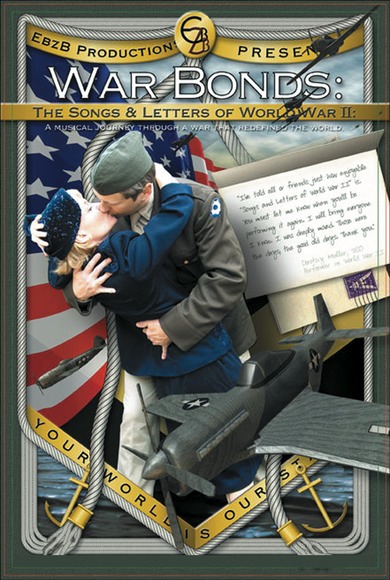 War Bonds: The Songs and Letters of World War II 
A musical journey through a war that redefined the world. This multi-media living history cabaret is interspersed with personal letters from the front and headline news of the period. The production is a warm reminiscence and a harrowing reminder of a time when the whole world seemed upside down. Award winning artists David zum Brunnen and Serena Ebhardt fill the stage with wartime memories and tunes. Actual veterans stories create a sentimental journey back through the days when blackouts and rationing were a small sacrifice in order to obtain freedom. A time when Rosie the Riveter discovered she could take care of herself; a time when African-Americans, who were segregated at home, integrated abroad to became heroes; and when a man's only wish was to be home for Christmas.  WAR BONDS: The Songs and Letters of World War II explores the dark side of war and the strange juxtaposition of the lighthearted, popular tunes of the time.  Musical Director, Julie Florin recreates a nostalgic score of familiar tunes.   Twenty-two songs of the period lift the mood -- even as the atrocities of war are described. This family show allows the "greatest generation" to celebrate, as the next "greatest generation" contemplates.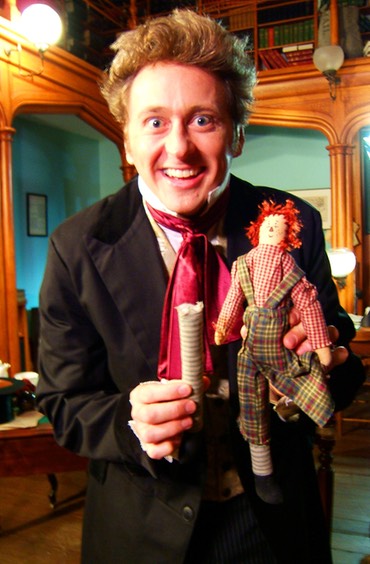 The Night Before Christmas Carol by Dr. Elliot Engel
Join Charles Dickens in his study on Friday, the thirteenth of October, 1843.  History, humor and the holiday come to life in The Night Before Christmas Carol. Renowned Dickens scholar and author, Dr. Elliot Engel, crafts this entertaining study suitable for every holiday schedule and audience. In this acclaimed performance, actor David zum Brunnen portrays Charles Dickens and 17 familiar characters; giving personal, social, and historical context to the ghostly classic, A Christmas Carol.  

"David [zum Brunnen] -- absolutely becomes my great-grandfather on stage!"  -Cedric Charles Dickens, Great Grandson of Author, Charles Dickens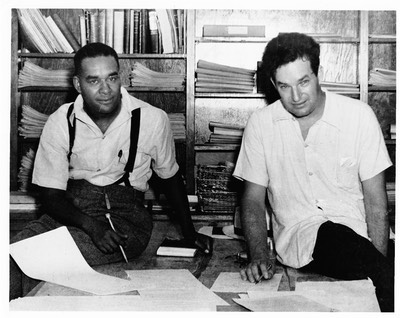 Native by Ian Finley
"Native," by former Piedmont Laureate Ian Finley is based on the true story of the collaboration between North Carolina playwright icon, Paul Green, and the celebrated novelist Richard Wright, the author most famously of Native Son.  The two men were brought together to adapt Wright's novel for Orson Welles' 1941 Broadway production, and the play explores the friendship and the battle of wills that ensued.  This production workshopped at Deep Dish Theatre in January 2015.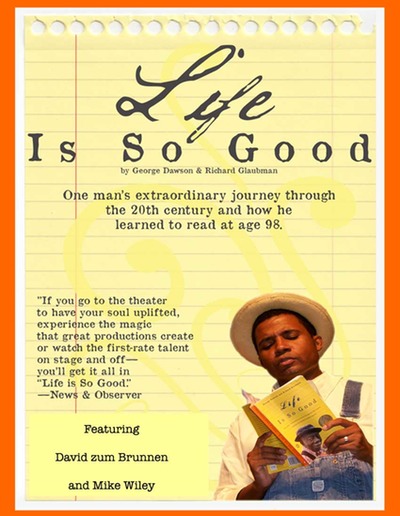 Life Is So Good by George Dawson and Richard Glaubman
In 1998, elementary school teacher Richard Glaubman reads an article about a Texas man who learned to read and write at age 98. Inspired and intrigued, Glaubman arranges to meet him. Eventually the two men collaborate to write the award-winning book Life Is So Good. The book tells the story of George Dawson's remarkable life, showing us the entire 20th century through his eyes and detailing his determination to continue his education and become literate after nearly a century of life.  The ultimate test of friendship between the two men comes when Glaubman presents Dawson with the publishing contract for their book.  Dawson, who has been told not to trust white men, chooses faith in a friend and the future, over traditional advice.  Glaubman's life is forever changed as he reflects on his newfound appreciation for life.Actors Mike Wiley and David zum Brunnen portray the two central narrators, as well as numerous other characters.  "Life is so good. And I do believe it's getting better!"
The Wrights of Passage is a story of the passion and focus of two brothers who wanted to prove it was possible for man to fly.  The brothers made the first powered flights in 1903, in a machine of the Wrights' own invention and construction.  The Wrights' discoveries provided the foundation and technology still used today in modern aviation and space exploration. Wilbur and Orville Wright construct an abstract replica of the famous flyer while revealing their influences, discoveries, failures, achievements and successes.  Audience members participate, too, by interjecting aviation and space exploration highlights from previous centuries and the current one.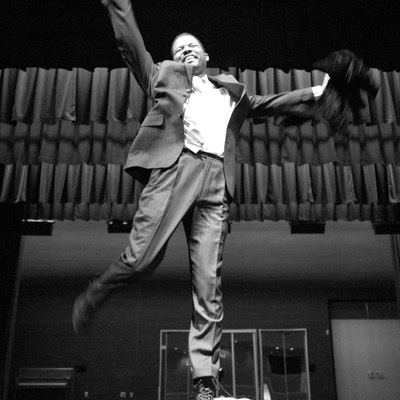 Brown vs. Board of Education:  On May 17, 1954 the United States Supreme Court issued a unanimous decision that it was unconstitutional, violating the 14th amendment, to separate children in public schools for no other reason than their race. The final decision did not abolish segregation in other public areas, such as restaurants and restrooms, nor did it require desegregation of public schools by a specific time. But it did declare the permissive or mandatory segregation that existed in 21 states as unconstitutional.  It was a tremendous move towards desegregation and for civil rights, nationwide. Starring Mike Wiley, this one-man performance recounts the court case, decision, and consequences of the landmark ruling.