"The problem with revolutions is that they always end right where they began."                  ― Matthew Catania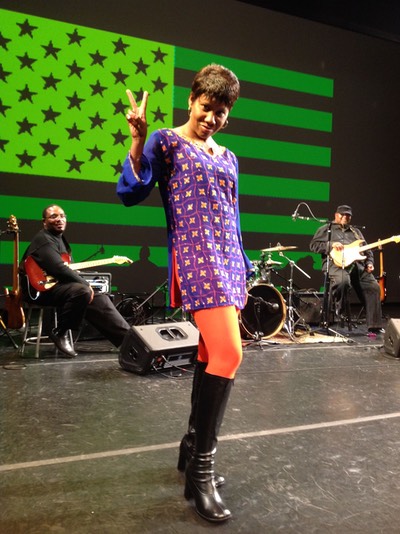 In 1968 The Tet Offensive and President Lyndon B. Johnson's  surprise decision not to run again, set the stage for Nixon's inauguration in 1969 and the beginning of a turbulent year filled with war, protests, senseless violence, and radical movements.  This was counterposed with incredible music, avant-guard art and scientific achievements that literally took us to the moon. 
Laugh-In and Star Trek shared the television screen with the Vietnam War. Feminism, Black Power, Free Speech, Gay Liberation, Environmentalism, and Peace movements dominated the news media. Hippies, drugs, war casualties and the draft lottery had anxious parents reeling with worry.  The Black Panthers and The Weathermen absorbed our youth. 
Soldiers who were lucky enough to return home from Vietnam entered into yet another conflict - one of conscience and anti-war attitudes.  It was a violent, vibrant time to be alive. Just like it is today.
From " Laugh In" to Woodstock, with a James Brown groove and a piece of Janis Joplin's heart, visit Richard Nixon's oval office and Charles Manson's jail cell. Deploy from the home front to Vietnam and back with a new understanding which puts "The Star Spangled Banner" in a whole new perspective.
With a book by Howard L. Craft and Music Direction by Kevin Wilson, '69 Seasons explores one of the most fascinating years in America's history. 
Thank YOU for a great production of '69 SEASONS here at the Turnage Theatre this past Saturday.  I think you have a great show on your hands that will be a vital part of EbzB's roster for a long time to come.

As the audience left the theatre, I heard lots of praise for the show.  But what I really noticed were the visceral reactions - people who felt personally invested in that turbulent time and how your production brought a lot of those emotions back to the surface.  I already told you about the one gentleman who left a few minutes early saying "That was a little too close to home. "  I didn't really take that as a criticism though.  It seemed to me that the show had struck a nerve, and depending on where you were in your life in 1969, the reactions will span accordingly.  This person may have been a Vietnam Veteran, or had a relative who was in Vietnam.

I loved the show.  It was heavy, without being heavy-handed.  But it also had its lighter moments which were important to keep that proper balance.  The show looked wonderful on our stage - your use of projections were able to really place the actors and the various narrative threads in context to a specific place and time.  For those who were coming of age and/or lived through those times, it was a nostalgic show.  For those who didn't, it was a great history lesson.  

Please give my regards to the entire company of '69 SEASONS.  We so enjoyed hosting you at the Turnage!

-Joey Toler, Executive Director, Turnage Theatre, Washington, NC
'69 Seasons recreated a time in history that had grown dim for some of its audience members.  However, in just a few hours and three extremely talented cast members we were taken back in time to the events which were wrapped in ribbons of meaningful music. It is a must-see for those of us who were there and for those who need to learn more about our country's history and never knew the season of  '69.

-Dorothy Herrington, Patron, Turnage Theatre
PRESENTERS' TOOL KIT
Run Time - 90 minutes (no intermission) /Student Version - 55 minutes
Technical Rider with Light Plot
 In 1969, I was 21, a student, and a white female married to a black man. The decisions I made then have affected the rest of my life. Your show brought clarity and articulation to that time of turmoil. Thank you. It was wonderful.

-Patron at Warren Performing Arts Center, Indianapolis, IN.
Song List
INSTRUMENTAL - Star Spangled Banner
Turn, Turn, Turn 
Dizzy
Mahna Mahna (RECURRING) 2x
Proud Mary
Mahna Mahna 
Suspicious Minds
Papa's Got A Brand New Bag
Spinning Wheel
Mahna Mahna 
Put A Little Love In Your Heart
It's Your Thing
Major Tom
2525
 Helter Skelter
Take Another Little Piece Of My Heart
WOODSTOCK MEDLEY (BAND)
Both Sides Now
Mahna Mahna 
One
War: What is it Good For 
Give Peace A Chance
A Little Help From My Friends
My friend and fellow Vietnam vet Dennis Rogers shared  '69 Seasons with me. Looking at it all brought back vivid memories of that chaotic time, both while in Vietnam and at home.  I was a college student who was trying to evade the draft and the horror of going to Vietnam, but I failed, at long last, and was drafted and sent there.  I chose to serve, in the end.  I was lucky be rearguard, not on the river boats, as I had been trained in California, but still I saw enough.  

The images and songs, slogans and famous people from the music world, pacifists and militant groups were all over the news and marketed in stores (head shops), so all that you showed is familiar to me.  Much of it was to escape.  

This play does illustrate well the confusion and mental strain of the war time, and of the earnest attempt by the young to question the essential truths of how we should organize to live, and to treat each other.  Nixon is well portrayed as the man upholding the prestige of the nation, mindlessly paid for by the unsung heroes who went to Nam and died or were harmed there, along with their families, who were fateful to the call, not necessarily in agreement or even understanding the reasons for our being in Vietnam.

It was good to protest, or good to serve.  If we were drafted, serving was even more creditable.  These choices were often stoically borne by the common man or woman, not those privileged to protest or evade the draft.  The evil was from those who took advantage of the chaos, either on the streets or in the high rungs of government, to advance their own agenda, not that of society as a whole.  

The play shows the chaos, horror and self-examination of the era, but not so much of the courage of the everyday person, who tried to serve, but serve honorably, who demonstrated, but did so peacefully, and those who governed, but who did did so to end the war by the law.  But the play does clearly show the social turmoil of those days, of the cries for justice, for love, and the contradictions between the government voice for war and the people's plea for peace.  Of course, most people over thirty years of age, Nixon's "silent majority" supported the war in full.  Plenty of "chicken hawks," even back then.  

And, to end my long critique, the songs were great, both stimulating and soothing, powered by those most interesting times.  I listened to both rock and Motown, as did many of my black fellow soldiers. As long as we heard a voice from home, we could all go both ways as far as music went.  

Thanks, What you're doing is valuable.  Vets are all over the place in terms of how they cope, or what they think of the war.  Remembering them at all is a very good starting off point.


-Charles Malone, Raleigh, NC