In One Era And Out The Other is a history of twentieth century America told through a patriotic prism.  "ERA" is a fast-paced musical cabaret filled with multi-media images  from 1901-2001.   Culminating with the September 11, 2001, attack on America, Serena Ebhardt refocuses the future with humor and hope. "ERA" is a nostalgic romp filled with double entendre, karaoke, prizes, pop-culture & curriculum connections.  Referencing celebrities, headlines, politics, protests, scandals, sex, sports, natural disasters, and popular culture, Serena makes history personal.  She reveals how Americans come together in life, liberty, and the pursuit of happiness when they stand united. It is all just a little bit of history repeating with an uplifting look towards the future.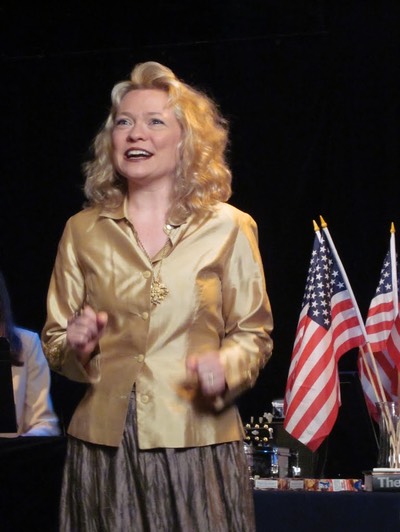 "ERA" was created using the curriculum guidelines for 11th grade AP US History.  It appeals to general audiences from a patriotic and nostalgic point of view; to college audiences for its history, double entendre, karaoke, and prizes; and to younger audiences through references to pop-culture an anti-bullying.  The tech rider is simple, and the show can be done with one or two musicians depending on your budget. 
Keyboards/Background Vocals: Julie Florin
Guitars: Drew Lile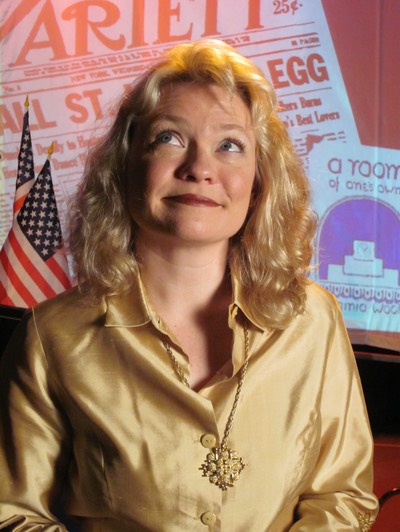 "In One Era and Out The Other"  may be programmed to highlight the following themes...
February: Black History Month
March: Women's History Month
May: Older Americans Month
July: Independence Day
September: 9/11 Memorials, https://911day.org/
October: LGBT History Month & Anti-Bullying Month
Everyone working in education will instantly appreciate how Serena weaves the medicine of "education" in a marvelous and unique tribute to our nation and her own beloved country and family. Your audiences will forget their cell phones and game boys and be transported to an on stage YouTube for the mind and soul…

-Patron Review, Chapel Hill, NC

PRESENTER TOOL KIT
Run Time     General: 90 minutes + intermission / Short Version: 55 minutes
_________________________________________________________________________
Larry R. Ferguson  (Common Core States Standards Adviser for In One Era) 
Larry "Guy" Ferguson is the former Advanced Placement/International Baccalaureate and PSAT/SAT Coordinator for Guilford County Schools in Greensboro, NC. He had oversight of all college bound assessments, including the ACT, National Merit Scholarship, and the Advanced Placement Incentive Program federal grant and was the Advanced Learner contact for all 26 county high schools. He has served as co-President of the World View's Global Educators Leaders' Program sponsored by the University of North Carolina at Chapel Hill. For eleven years, he was an Advanced Placement teacher at both private and public schools and an adjunct at North Carolina A&T State University in the History Department. Ferguson is a National Board certified teacher and in 2006 was recognized by the College Board's Report to the Nation as the top AP World History teacher in small schools, 300 or fewer, worldwide. He is also a reader for AP World History for the last three years. He has presented before the College Board on topics from the SAT to AP strategies for success and presented on data enrichment and application. Ferguson earned a Bachelor of Arts degree in History from The University of North Carolina at Greensboro, a Master of Science degree in History Education from North Carolina A&T State University, and began his Doctorate in History at The University of North Carolina at Greensboro in 2005.