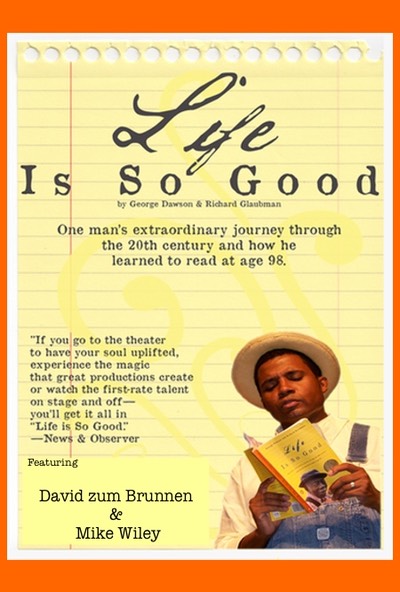 Life Is So Good --  The story of two men — one looking back into history, and one looking forward to the future.  They meet to form a remarkable friendship.
In 1998, elementary school teacher Richard Glaubman reads an article about a Texas man who learned to read and write at age 98. Inspired and intrigued, Glaubman arranges to meet him. Eventually the two men collaborate to write the award-winning book Life Is So Good. The book tells the story of George Dawson's remarkable life, showing us the entire twentieth century through his eyes and detailing his determination to continue his education and become literate after nearly a century of life. 

The unlikely friendship between Dawson and Glaubman serves as the foundation for the original stage production of Life Is So Good. Actors Mike Wiley and David zum Brunnen portray the two central narrators, as well as numerous other characters.

Dawson's inspirational life offers valuable lessons in living fully, as well as a first-hand view of America during the twentieth century. Dawson shares his insights into humanity, history, hardships, honor, and happiness. From segregation and civil rights, to wars, presidents, and defining moments in history, George Dawson manages to find the secret of a long and happy life in a simple philosophy: "Life is so good. And I do believe it's getting better!" 

Though he was only twelve years old when he left home to work on a white family's farm, Dawson took with him his parents' positive outlook: appreciation of what he had, the wise observance of others, and common sense.  Dawson's quest to make a living and raise a family take him on many perilous adventures that he survives with optimism. Dawson reflects on his story with moving prescription for a satisfying and meaningful life.

Through his association with Dawson, Richard Glaubman examines his own perceptions of race and history.  While prompting Dawson's memories and recording the answers, Glaubman and Dawson become awkward, but real friends.  They each have something to learn and teach.  The ultimate test of friendship between the two men comes when Glaubman presents Dawson with the publishing contract for their book.  Dawson, who has been told not to trust white men, chooses faith in a friend and the future, over traditional advice.  Glaubman's life is forever changed as he reflects on his newfound appreciation for life.

The original book, Life Is So Good, and its subject George Dawson were featured on Oprah's Use Your Life Awards and in GuidepostsMagazine. Life Is So Good received the 2001 Christopher Award for Nonfiction for writers whose work "affirms the highest values of the human spirit". George Dawson died at the age of 104 in 2001, but was posthumously honored when the Carroll Independent School District named a middle school after him in Southlake, Texas. While living, George Dawson also received two Doctorates of Humane letters from Texas Weslyn University and New School of New York City. 


If you go to the theater to have your soul uplifted, experience the magic that great productions create or watch first-rate talent on stage and off, you'll get it all in Life is So Good.

- Roy C. Dicks, Raleigh News and Observer.
PRESENTER TOOL KIT
Run Time - 100 minutes + intermission /Short Version - 55 minutes