"Interview: Discovering Your Company's Voice"
with EbzB Productions
☐ Artist Resume/Bios of Key Presenters
Serena Ebhardt and David zum Brunnen (Teaching Artists) -  Serena and David have been leading professional development residencies and workshops for over twenty years. EbzB's teaching artists have received training from the University of North Carolina, Hedgerow Theater School, The John F. Kennedy Center for the Performing Arts, the Lincoln Center Institute International Educator Workshop and the National Center For Creative Aging. Their performance and broadcast work has been seen by millions—  nationally & internationally— and includes Film, Stage, Television, Commercial, Industrial and Voice-Overs. EbzB strives to promote integrity, self-discovery and positive transformation of individuals, artists, audiences, and communities.  They believe the performing arts encourage discoveries unveiled immediately, and over time.  For more information: www.ebzb.org
☐ Artist Background*
Founded in 1998 by award-winning duo, Serena Ebhardt and David zum Brunnen, EbzB Productions, Inc. strives to develop original, touring theatrical productions to promote integrity, self-discovery and positive transformation of individuals, artists, audiences, and communities. We believe the performing arts encourage positive transformation through discoveries unveiled immediately, and over time. EbzB teaching artists are dedicated to the promotion of dramatic art as a valuable educational and professional development tool. EbzB Productions celebrates the profound impact of storytelling through theater in a repertoire of simple and compelling productions, flexibly designed for easy touring to all types of performance venues. EbzB's productions of "War Bonds" and "The Night Before Christmas Carol" continue to be seen on PBS and CBC stations nationwide.
☐ Program Description*
EbzB Productions' corporate workshop planning begins with a needs-assessment meeting.  From there, we tailor a professional development workshop for up to 50 participants.  Topics may include: Customer Service, Sensitivity Training, Dialogue Development, Empathy, Inclusion, Institutional Memory, Presentation Skills, Creating Mission Statements, etc.   Participants produce a script based on oral interviews, which they will perform. This process develops creativity, critical thinking, listening, transcription, collaboration, and communication skills.   
Benefits include an increase in…
Analytical Thinking

Problem Solving

Finding and Evaluating Information

Collaboration: Empathy, Trust, Teamwork

Customer Service Skills

Creating and Innovating

Communication: Writing, verbal, non-verbal, presence, presenting, and self-confidence.
☐ Topic Selection*
EbzB will tailor a professional development workshop for your business.  We have opportunities to develop
Inclusion and Dialogue Development
Institutional Memory and Awareness
Empathy/Awareness/Tolerance
Presentation Skills/Public Speaking
Family Fun Day Programing - Choose from our productions at www.ebzb.org
☐ Space Requirements*
Large, empty, indoor space/stage/auditorium or classroom.

Well Lit 

Climate Controlled

Flexible seating (folding chairs, or other, allowing for seating to be moved)
☐ Location Options*
EbzB Productions can present program on-site of host company 
☐ Technical Requirements*
Projector

Screen

Paper

Pencils

Power Outlets

Power Strip

Extension Cords

2 large tables

5-10 Chairs

Assistance from a company representative with a working knowledge of the space and the facility's technical capabilities

Bottled Water and Snacks for Participants
☐ Fee Structure*
EbzB will tailor a professional development workshop for your business.  Workshops may be conducted on a single day, or spread over multiple days. Rates are determined by scope of project requested.
Hourly                                                      $250 to $500.00* (materials included)

Half-Day (3 to 4 hours)                          $800 to $1000.00* (materials included)

Full-Day (6-8 hours)                                $1500 to $2,000.00* (materials included)

Performance for Family Programs       $2500 to $6,500.00*  (Fee determined by specific production requested from EbzB roster)

Full residency of 7 to 10 days                $5000 — $12,000 (Fee determined by specific program requested.)
*Add Travel/Accommodation beyond 50 mile radius of Raleigh, NC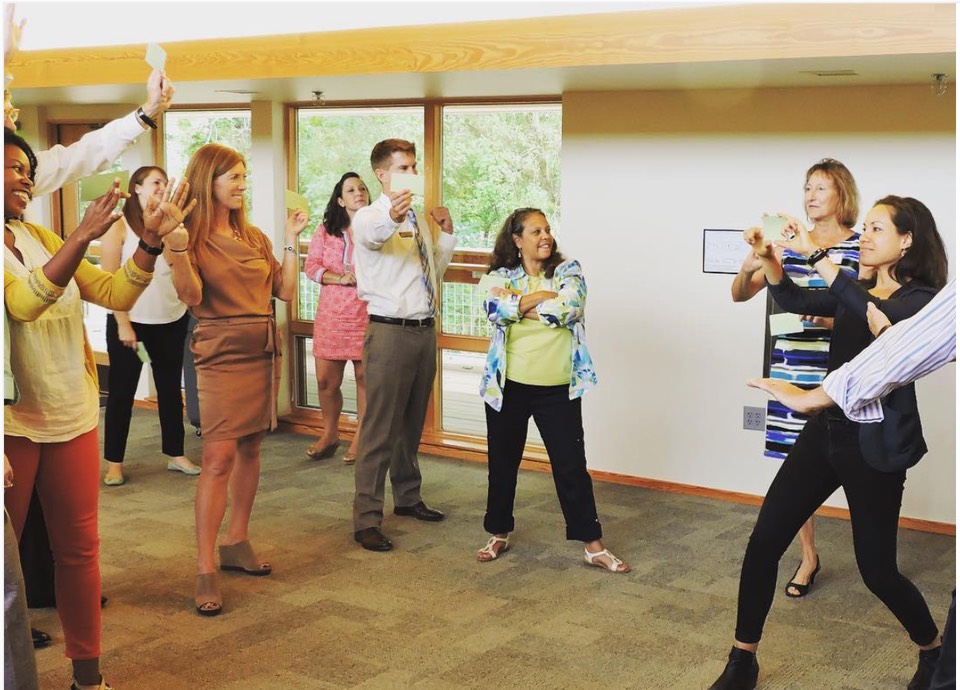 This workshop is also available through the United Arts Council of Raleigh.